Qi Kwan Do - Just Another Kid's Sport -Think Again!
Little Dragons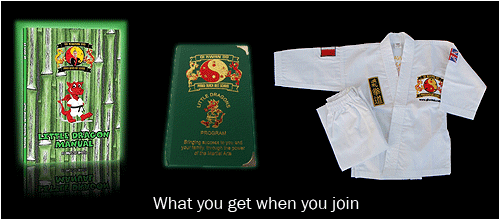 Little Dragons is a pioneering programme designed for 3 – 5 year olds. The programme is devised to recognise the different developmental levels and learning needs of this specific age group. Whilst your Child acquires some basic techniques of Qi Kwan Do - such as punches, blocks and kicks, the main emphasis of the lessons is to have fun and develop fundamental life skills of Co-ordination, Balance, Focus/Concentration, improved Memory and Fitness, Teamwork/ Leadership, Respect and Discipline. Along with Controlling Aggression, Emergency and Stranger Danger skills. Further more, classes are uniquely structured to enable easy entry into the complete Qi Kwan Do Programme at 5 years of age.
Qi Kwan Do For Children
Families that play together stay together!
Qi Kwan Do is more than just another after-school activity. Netball, Football, Dancing, Gymnastics etc., are all great for children but Qi Kwan Do provides much more - personal development through a physical discipline and even more importantly, can be a way for you to connect to your children as you can train together.

Our exciting yet disciplined classes focus a child's attention, improving his or her ability to learn. Learning builds a sense of accomplishment. With each new accomplishment, a student's self-confidence grows and confidence is the first step in the empowerment of a person's physical and mental abilities.

Once we begin to develop a student's self-confidence, we are then able to instil the values of respect, courtesy, honesty and integrity that are the foundation of Martial Arts, dating back thousands of years. Furthermore, your child will develop perseverance, the non-quitting spirit which will help overcome life's obstacles and challenges, aiding them to succeed in the face of adversity, to be a goal setter as well as goal getter.

These combined physical and character forming foundations that Qi Kwan Do Black Belt Schools develop help children to excel in their academic school studies, sports and social endeavours. It ensures that they will have the confidence in themselves and the strength of character to make the right decisions when confronted with negative peer pressure. They will be leaders not followers.
---
Basic Programme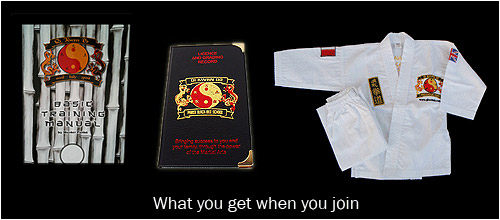 Unfortunately, there are few fitness activities that the family can dedicate time to, especially one that is so rewarding, fun and safe! If your child plays football or gymnastics, you have to stand and watch. If your child attends swimming lessons or ballet, again you have to sit and watch. If you go to the gym to 'get in shape', usually your child cannot attend.

This is what makes Qi Kwan Do 'Family Classes' so appealing. Our professional Instructors can teach the same techniques to an adult or child, and both can achieve their goals whilst enjoying the process. Most of our student body is made up of Mums, Dads, Brothers and Sisters all training together and having fun, whilst building their confidence and getting in the best shape of their lives - all in the same class!

To make training as a family even more appealing, ask your instructor about discounts available when family members from the same household train together!
No One Sits on the Bench!
Martial Arts is not a team sport. The only person that you are competing with is yourself. Students come to us from age three to sixty three. Some are already in good shape, whilst others are overweight. Some train for self defence, fitness and others attend classes just for fun.

Each person is treated as an equal and is trained to the best of their own ability and potential. A student is never compared to others. At Qi Kwan Do Black Belt Schools our instructors are there to guide, instruct and motivate you to be the best that you can be.
For more information about our fantastic Family Programme, please contact us here.
What Are You Waiting For?
What are you waiting for? Physical and Mental Empowerment is only a decision away! Your child does not have to have any prior Martial Arts knowledge or athleticism. To experience the excitement and challenge of Qi Kwan Do Black Belt Schools.
---

Leadership Programme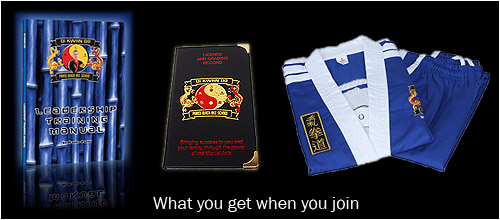 Qi Kwan Do Black Belt Schools run a very successful and popular Adult Martial Arts programme. These adult only classes are for those who do not want to train with children (for 15 year olds and above).

These classes are a great way to meet new people who have similar goals of getting in shape and one day achieving a Black Belt. You will benefit from increased muscle tone and strength, flexibility, bone density and it is also a proven aid to weight loss. Qi Kwan Do also teaches how to reduce stress and increase energy, which will leave you feeling and looking better, whilst most importantly you learn to protect yourself.

The importance of self-defence

We now live in a world where it is vital that we learn how to defend ourselves. Self-defence is very important, as one day it could save your life. Therefore, we teach all students to be safe by using a common sense approach to protection. This means understanding self-defence techniques and strategies, and conflict resolution techniques. We also teach body language concepts to our students such as the effects of eye contact and the use of the voice.

A great way to lose weight and keep fit!

Let's face it, we have all at one time joined a gym, started aerobic classes or maybe bought an exercise video or equipment, only for them to become a reminder of failure. However, the majority of people who read this, will not have reached the fitness level they dream of or achieved their weight loss goals.

So why is it that our unique Martial Arts programme has been so successful in helping men, women and children lose weight, and achieve their dream body shape?

1. Our programme is exciting

Every class you take at a Qi Kwan Do Black Belt School will be different than the last. You will always learn something new. Gyms, aerobic classes and videos become very repetitive and after a while most people drop out. However, the number of students who continue to train with us is unbelievably high, mainly because we offer a fun alternative to getting fit and in shape.

2. You train in class at your own pace

Our Adult classes are split into a number of training levels:
Beginner Programme (Mixed Ability)
Advanced Programme (Black Belt Club)
Leadership Programme (Weapon training/Sparring/Life skill coaching)
Certified Instructor Training C.I.T. (The Ultimate Programme)
This means that everyone in your class is in the same situation as yourself. Unlike many other Martial Arts Organisations, you will not be thrown into a class with a group of experienced Black Belt students. We are professionals and believe in doing everything we can to help you reach your goals easily and safely. You will only be expected to train to your own level of fitness and the Instructor can specifically adjust the class to a student's needs.
---
Certified Instructor Training (CIT) Programme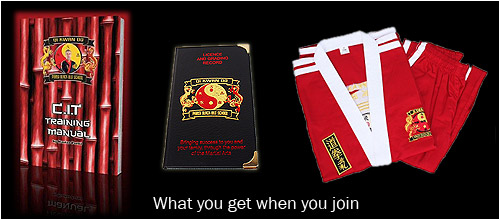 Do you ever dream of having a truly exciting career that you actually felt passionate about? Would you want to help others to better themselves and achieve their lifelong goals?
The CIT Programme has no restrictions of age, rank or physical ability. Instructors are selected on personal merit.
The key to success in the CIT Programme is your personal conviction and commitment to become a role model, which ultimately defines you as a martial artist, human being and a true Leader.
Imagine working in an environment where your success is measured everyday by those you've inspired. Think about what it would be like to work in a place where you were sincerely thanked for changing the life of another person. Imagine running a business that completely altered the way people look at their life. Sound to good to be true? Are you ready for a truly healthy and rewarding change? Qi Kwan Do Black Belt Schools are looking for unique people to be Cheif Instructors and Assistant Instructors. We insist on our entire staff leading by example. All of our staff are continuously held to the highest standards of excellence. Do you have what it takes to be a part of our team?
To Learn more about becoming an Instructor with Qi Kwan Do Black Belt Schools, ask your Instructor for information on how to enrol on the CIT Programme

Positive mental benefits

Aside from the physical benefits you gain from our programme, there are many mental benefits such as:

Self-Control; Positive Thinking; Goal Setting; Courage; Increased Level of Focus; Self-Confidence; Communication Skills; Perseverance; Motivation and reduced Stress Levels.

Our staff are experienced and are there to motivate you.

At Qi Kwan Do Black Belt Schools we pride ourselves in having a fully trained highly qualified team of Instructors. They are there to coach you and advise you in everyway to help you achieve your goals within our programmes. The Instructors attend regular courses to keep their Martial Arts and teaching methods up to the high standard set by Master Parisi, Founder of Qi Kwan Do.
When you combine all of these areas you can see that our Adults programme has it all. We believe that you will not find any other fitness and Martial Arts programme to match the many benefits you can receive from our professional Martial Arts Schools.